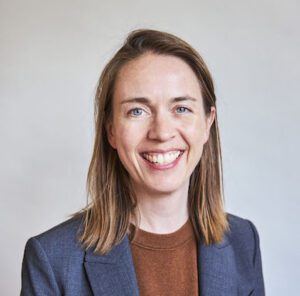 Kate Lyon is our guest judge for the second-round of the InnoVenture Challenge. We recently sat down with Kate to hear her thoughts on Iowa entrepreneurship and what she's looking for from the Top 10 Semi-Finalists in this year's competition.
Tell us about your experience/involvement in the startup ecosystem to-date.
My involvement with the Iowa startup ecosystem has taken many roles. First and foremost, I am an attorney who enjoys representing startups and small businesses. Beyond my legal work with startups, I founded and ran multiple businesses in the consumer, software, and manufacturing sectors. I have taken various roles in my companies, from co-founder to attorney to COO. I sit on multiple boards and am an angel investor.
Since 2018, I have served on the board of Ames Seed Capital, a community-based seed fund with 4 million dollars of capital to invest in Central Iowa-based startups.
What makes a startup community "successful"? What are the areas you think we are doing well? Where could we improve as a state?
A startup community is successful when it is self-perpetuating via experienced founders giving back to the community via their time, knowledge, and financial investments. No matter the external resources organizations provide, a base community in the state is always building and growing. I believe Iowa does well with founders and volunteers providing their time and knowledge. As a state, we need more financial resources in the early stages (pre-seed) and (follow on) later stages. We also need more exits to allow founder investment back into the ecosystem.  
Why are you judging this year's InnoVenture Challenge?
I am judging this year's InnoVenture Challenge because I enjoy talking to founders and seeing the creative solutions developed in Iowa.
What do you hope to see in the startup applicants who make it to this year's Top 10?
I want to see Iowa startups from across the state who want to grow their business and disrupt markets.
What will you look for in a great pitch/interview?
I look for a few things in a great pitch or interview. First, I want to see the founders' deep understanding of their business. Do they have experience in the market? Do they understand the product and business fundamentals? Are they passionate? Next, I look for indications that the founder and founding team have the capabilities to scale and run a business. Finally, I look for honesty: does the founder blow smoke?
Any other thoughts/comments you'd like to share?
I appreciate the opportunity to further the ecosystem!
Read more about the second-round judges here.